The Magnolia Awards was worth talking about, the weibo awards, not so much. Show up and you get one slice of pork!
I think I sorted over 1000 pictures in the last 2 days. What's with all these events back-to-back!
Click To View Pretty Pictures
Red Carpet/Studio Photos:
Some big movies appear on the red carpet, one of them is of course The Monkey King 3: Land of the Beauty with Zhao Li Ying, Feng Shao Feng, Him Law, Liu Tao, and Gigi Leung.
They tied her hair up again… and another colorless dress. Those earring are weird-looking on her small face! o.o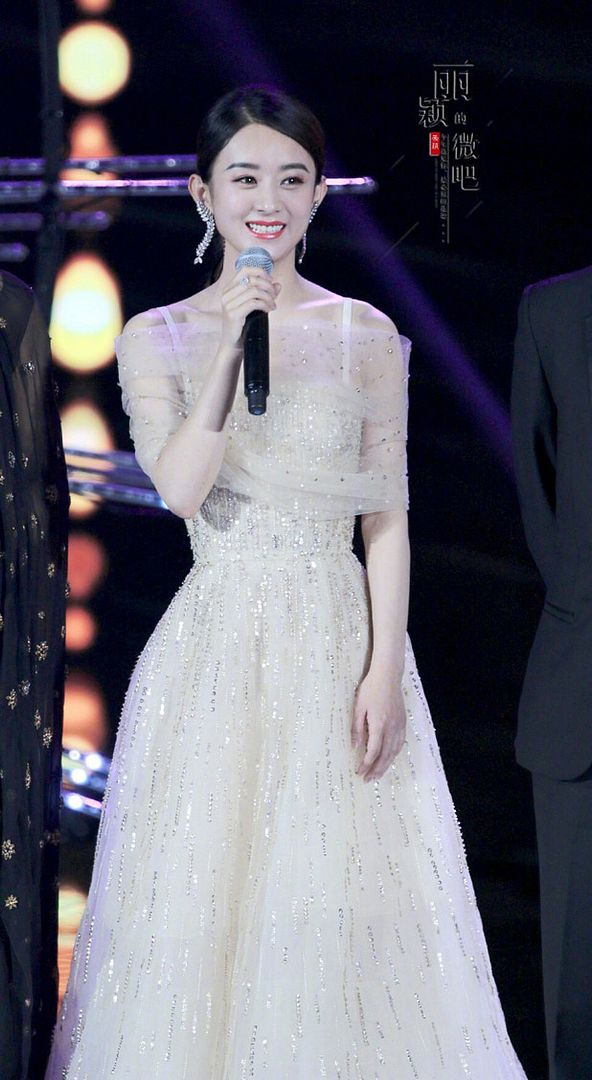 Liu Tao. 🙂 Always on her A game in fashion.
Li Ying with Gigi! So adorable.
Fang Hua (Youth) movie crew led by Feng Xiao Gang and Huang Xuan.
HE LOOKS SO HOT TONIGHT. EEEEEE!
That sexy earring. *____*
One of dream OTPs sitting next together. Watch the short clip at the end. heee! Choco, you're seeing this?!
Guilty of Minds with Wan Qian, Li Chun, and Li Yi Feng.
Zhang Yun Long is perfect!
Look at this charismatic man. He has such great expressions. Yuwen Huai Ian Wang Yan Lin.
Zhang Tian Ai with Father and Son crew once again.
The crew from The Founding of An Army. Yi Feng is the only one in white. ha.
Luo Jin with his movie crew Ash.
Yang Mi in two gowns.
Nick Wang Kai.
Lin Yun. Somehow I like this weird dress on her.
Zhou Dong Yu. I just love her colorful dresses!
Deng Chao.
GEM looking adorable.
Ou Yang Nana.
Feng Xiao Gang's Intro speech with Li Yi Feng, Huang Xuan, Zhao Li Ying
Feng Xiao Gang has a short speech in the beginning in which he uses to tease some actors. With Li Yi Feng, since it's Father's Day and they played father-son in Mr. Six, he looks into the audience and looks for his "son." You can see Yi Feng waving his hand to get father's attention, then Feng Xiao Gang asks if there are a lot of daughter-in-laws in the audience. A lot! Lol.  He adds that he posted a comment this morning and over thousands of daughter-in-laws left a comment. He wonders if he's really busy these days and Yi Feng jokes back that he's been taking medicines regularly, as in he's been drinking nutritious stuff to prep his body. HAHAHA. Feng Xiao Gang is happy for his daughter-in-laws. XD
If you didn't know already, Zhao Li Ying won yahoo star search held by Feng Xiao Gang and thus began her career. In the clip above, he sat down next to her for a little chat, reminding her that it's been 10 years since she started out with his commercial. He recalls her as a pretty girl with character. Now that she's a big star, he can't believe it's been 10 years, and apologizes for revealing her age. (Ha!) He then jokes that she was only 12 at the time (actually was 19). He hasn't seen her since then, more so because he doesn't watch tv as much. Then he finally met her again at the Student Awards Festival and they took a selfie and chat some more but at the end of the day, he thought she was familiar and was told she's Zhao Li Ying. So then he got on weibo and befriended a Zhao Li Ying account, only to be told it's a fake account. He remembers Li Ying has left a comment and gives her the mic and she confirms that she left a comment saying she's the real one. However, he didn't pay her any attention and instead teased on weibo that he's also a fake Feng Xiao Gang.
Lastly, he congratulates her growth. The audience's love for her is like the brimming sun in the afternoon. He hopes she continue to improve and if there's a chance, they should grab a drink together.
I honestly had to watch this clip many times because my eyes were drawn to Huang Xuan's intent gaze on Li Ying the whole time. GAHH. Please make them happen, drama gods!
Via: 01
Related