~.~.~.~.~.~.~.~.~.~.~.~.~.~.~.~.~.~.~.~.~.~.~.~.~.~.~.~.~.~.~.~.~.~.~.~.

The Virtual Team
~.~.~.~.~.~.~.~.~.~.~.~.~.~.~.~.~.~.~.~.~.~.~.~.~.~.~.~.~.~.~.~.~.~.~.~.
Hello there! I'm known in the world of cyberspace as Kaptain A/Kappy. I started this (AliceChen's World) blog in 2006 as a fan blog. Slowly, I digressed from that point and got interested in other Asian dramas, mainly Taiwanese, Korean and Japanese. Between 2007 and 2009, you could say I abandoned this blog because I just couldn't keep up with the posting. At the time, I had no idea what to post. Then in mid 2009, I made a comeback posting soundtracks from dramas that I like. Now, I enjoy sharing links and raving/ranting about the various gems and hot messes in dramaland. In 2012, I moved from blogger to a self-hosted ship.
In short, hope have a great time navigating this voyage with us. Along the journey, several kind folks have joined my ship. Please do give them your love and support!
Hihi! My name is Jeff (and apparently alice made me into a marshmallow) and my kdrama addiction was a result of kpop. My ultimate bias is Sooyoung from SNSD! Things I love but do irregularly include scripting, photoshop, making mochi (@[email protected];;), swimming and napping. I started out with ACW in June of 2011, and have been with AVV since. I've been busy, so I'll only randomly appear in the chat 🙂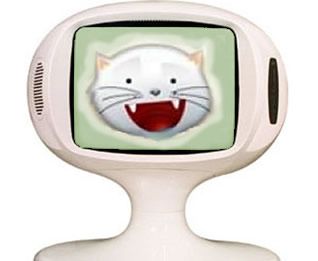 Ahem. *tap taps mike* Testing 1-2-oh there you are! *beams*
I am known by many names on the Intraweb. It depends on my mood and inclination. Lately, I've been posing as a Vampire Kitten. Here on A Virtual Voyage, I took the moniker, 'Angelic'.
I speak a few languages. I enjoy dramas from China, Hong Kong, Japan, Korea, and Taiwan but I will focus on Chinese language dramas.
Bu Bu Jing Xin is my first attempt at drama recapping. I haven't learnt what to leave out yet! But once I find my voice, the recaps will get shorter and hopefully remain as sweet.
I hope you will enjoy our passion about Asian dramas. Feel free to share your thoughts about anything.
See you on the blog!
Wassup? Do call me Keane. I watch anime, tv show, and film like any average Jane but my passion belongs to music; probably it's a major influence from my Godfather since he's in the industry. If I like it then I won't let a little thing like language barrier prevent me from cherishing the moment hence I too comprehend a few lingoes which I keep a balance and exercise daily to maintain freshness.
How my screen name came to be?  If you recognize the Brit Band Keane then maybe we've met at some of their M&G's. LOL!  I dunno~ it's simple, resilient, and classic… just like me! Let's cast our Hopes and Fears together. Ahoy, permission granted to come aboard!
Hi guys! My initials are XY, but a good friend added a Z behind, and starting calling me XYZ. Thus, you can find me in a lot of Math textbooks. xD You can call me either nickname you want to. (: I'll be bringing only Japanese dramas, because I'm a Japanese fan. I love Japan and everything Japan-related! This love for Japan was sparked off by this boyband called Arashi. Love them to bits! It consists of 5 members, my biased being Matsumoto Jun. Of course, over time, I grew to love other Japanese artists. (: From Singapore, but currently attending Uni in New Zealand.
JC is a reclusive member of the Crew. Kaptain A has stated that she knows what may be his true name, but she is cut off by JC before she could finish. He doesn't want people to see his face so he could hide his identity. He seems to be very knowledgeable about the world as he is instructed by the members to do specific tasks.
Many of the team members question who he really is as he is too mysterious. At one point it is stated that he is a very kind person. JC doesn't talk much. Despite his reclusiveness, JC is extremely loyal to the ship and its crew members and is willing to go to great lengths to protect it.
Tranzgeek: Fellow furry ball who is easily ~brainwashed~ influenced by greener pasture as they come to my attention (aka hotter guys or better actors). I do have a 'forever' bae and that's Hu Ge, even if I tend to change my focus to other fresh tender meat frenetically. Besides watching dramas, I also have to balance school and my translating blog so I'll be on and off at times, just to rant about whatever I wanna rant about
I tend to go for the 'noncliche' dramas…so no modern cheesy stuff plzz. Last thing about me, is: I usually binge whenever I can, although I must not! >_< My motto in life is above. Looking forward to seeing all of y'all around!
Hi guys! It's Drama_addict28 aka Amy! I am very excited to join the team and enjoy working with you all. Feel free to make comments about anything you would like to see on the site in the future, I will try me best to contribute! Email me if you have questions!
I am your average asian fangirl, who watches dramas of all kind. Also for all you kpoppers out there = meeee. I love listening to music, and sharing my thoughts on things I love. Peace out!
Side note: Thank you Kappy for making this possible. Is there anything you would like me to write about. Please feel free to give me an assignment. I am eager to learn how you make your posts so great!
Hello! This is Wuxia Rocks! I'm a long time fan (dinosaur era long) of Wuxia, hence the name. I also love Movies and Dramas in various genre. What I look for most is a great story with a great hook. Somehow I usually end up with bad ones. My awesome luck. More about me, I'm a writer, dreamer, candy lover, and music fan. I like C-pop, J-pop, K-pop, T-pop, V-pop, etc, basically whatever is good to my ears. My presence exists all over the internet. Feel free to check me out, but please don't stalk me too much. And no I am not a girl. Regardless of what you assume, that is a myth. I've been around, yet fate has led me to AVV. My awesome family. I hope to contribute in interesting ways.
Movies/Dramas (hopefully good ones) reviews and recap, here we go!
Hello everyone. I am known as the spy. I mean Kath! I have been a long-time AVV lurker, and decided I could do better and join the team to help out. I submitted an application to become a pirate to Kappy, and through some interrogation from the team (because they thought I was really a spy!) was eventually welcomed on board. I'll be helping out when I can with recapping dramas, or giving an overall review of the ones I watch. I'm super picky when it comes to dramas, and tend to nitpick if things don't make sense. It's one of the major reasons why I don't watch too many dramas, because I mean if you're going to spend that long invested in a story, I would hope it's good! I have been the minority of not liking a super popular drama, but that's okay. I guess it comes with being a picky perfectionist turtle. Outside of AVV, I love to bake, and hold a title of baking the best chocolate chip cookies! Please let me know if there's anything I can help out with.
—> Inactive Until Not So
♥ Jeff
♥ XYZ
♥ Yichung
♥ JC
♥ Cool
♥ Angelic
—> Past Contributors
♥ Ji-Hye
♥ Michelle
♥ Seo Vero
♥ Yogi
♥ Ranooosh
♥ Whoopie
♥ Angelic
♥ Anonymous
♥ Seopseop