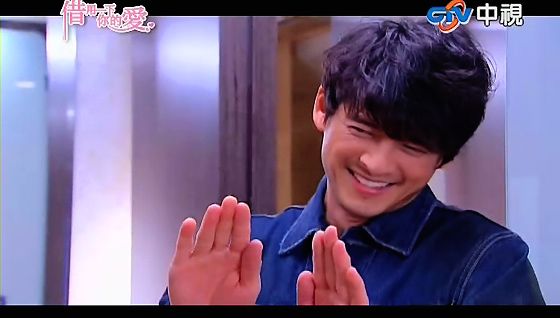 He's so mean. heeee ~~
Ah! SO GOOD!! This might be my Tdrama crack of this season. And guess what? Episode 3 aired today so I can watch it soon. HAR-HAR! 😀 Thanks Viki subbers! We lub you. ♥ I thought my annoyance with the female lead would be on and off but she's utterly relatable. Yes, she's reckless at times but she's someone you can reason with. Story-wise, I'm so glad they didn't drag out the lost daughter-mother situation. All we need now is a DNA test. The title is Borrow Your Love, which makes me worry about the other meaning…
Episode 2:
Opening Theme Song: Til We Never Meet Again – Silence & Xu Liang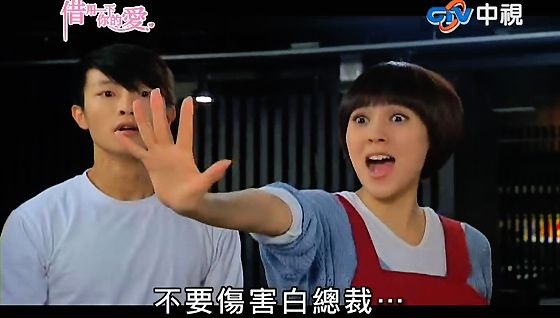 Having been on tv for her heroic rescue of the chairlady, our girl Ping An busies herself with retelling the kidnapping story in an angle most favorable for her. The vendor owners in the food court gather around to ohh and ahhh about her courage. Ping An becomes an instant star among the employees, they line up and take turn to get a picture taken.
Girl has no idea the first round with the evil witch has just begun!
In the meeting room, Chairlady Bai announces her latest plan to garner in the most profit. Because their food court vendors are outdated and old, competition with other shopping mall centers is rapidly rising. She plans to re-models the food court and take back its operation rights. Sitting beside her is her brother-in-law, Director Li Shi Cheng (Allen Chao), who's wearing a face of contempt, obviously against her idea. He thinks they should find better ways to manage the high-end goods instead. In front of other directors, this man loudly exclaims his disregard for Chairlady Bai, stating that Qing Cheng Group was named after him and his deceased brother. However loud and rude he is, Chairlady remains seated, she replies, "Your brother handed down the CEO position to me because he saw the ability in me. Not because I was his wife."
Later, Ye Chen visits Chairlady Bai's office, meaning to return the motorbike she arranged to be sent to him. He rejects her offer but she insists on repaying the debt, reminding him kindly that the bike is not his to begin with. Ah, the woman must have read his file carefully to know that he borrowed the bike. She also learns about his fresh release and proposes a deal to benefit both sides.
She wants him to look for her lost daughter and in return, she'll pay him a hefty sum. For someone who has no one left in this world, the money isn't the lure and Ye Chen feels the need to help the lonely mother. He agrees and is given a photo of the young child. (Re-watching, I now see why they cover the dad's face.)
Afterwards, Ye Chen meets Ping An in the men's restroom, dressed in her bright janitor uniform. Cheerfully, he says, "Hi!" and smiles. Contrary to his cheery mood, Ping An's unhappy to meet this big pervert again. To tease her, he raises his hands to her chest level and chuckles.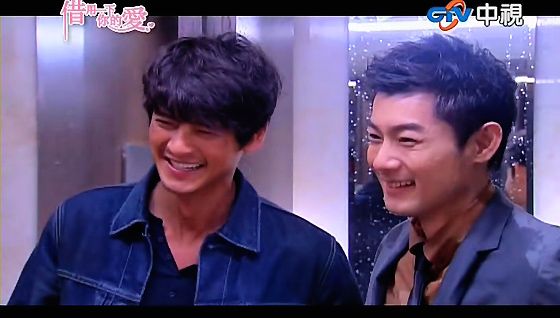 She wishes her memories could be erased and he reiterates the same, saying how his eyes are contaminated. To cleanse his eyes, she picks up the bucket of water and splashes it in….Assistant Li's face. Embarrassed and tongue-tied, she pours the remaining water on top of her head, mumbling a meek "Sorry." The men are genuinely shocked at her odd behavior. Then break into these adorable fits of giggles.
While Zi Wen dries his hair, Ping An enters her daydream of him sexily drying his hair and staring at her with his puckered lips. She follows his action just to get snapped back to reality. He moves in to blow dry her hair and she shifts around, nervous at the close proximity. She apologizes for repeatedly causing him trouble and wonders why he doesn't get angry with her. He candidly says that it's difficult to stay angry with her. She has this innocent look on her face which reminds him of…a puppy. haha.
He goes on to tell the story of his pet and how he thinks dogs are more reliable than humans in this time and age because they don't abandon their owners. Dude, why are you saying this? Ye Chen sacrificed himself for your crime! You have no rights to say that! I'm confused about his statement. More back story would be great!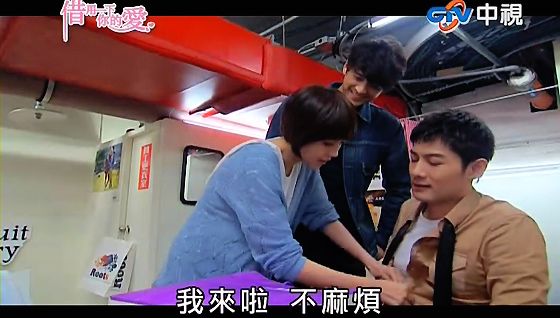 She gazes wistfully at Zi Wen until Ye Chen shows up in her face and snaps his fingers. He has brought new clothes for Zi Wen to change. Without thinking it through, Ping An figures she should help him change and start unbuttoning his shirt. haha. This girl. Befuddled, Zi Wen asks whether he should strip in front of her? Major girl-blushing time.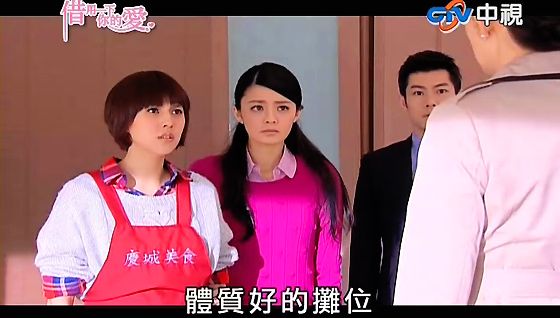 News of the remodeling of the food court travels to Ping An and the rest of the employees. They call out her wasted effort in saving a monster. Frustrated with the turn of events, Ping An rashly stomps into the meeting room. Chairlady Bai calmly dismisses the people and explains to Ping An that stopping the operation of the food court doesn't mean she'll kick everyone out. In the business world, only the fittest will survive. Plus, in the contract, it is clearly stated that the company has the right to stop all operation once the contract expires. Ping An argues back, "But, even if we are not competitive enough, you should give us time to improve! You can't force us to leave when we have feelings for this place."
Chairlady Bai turns to Ping An, a smirk crossing her face, "Feelings? What are feelings? Can it make you full? Make profit for the company?" Seeing her limitations, Ping An bows her head and implores the Chairlady to consider her decision again. There's no time for that and our cold CEO utters the final words, "I don't care one bit about the feelings of anyone unrelated to me."
Ping An's patience thins out, she screams, "You suck more blood than a leech. Your heart is darker than squid ink! I would've been the first to leave if something were to happen to you that day!" Standing on the sideline, Xi Yue steps in and slaps Ping An across the face for her blunt profanation. Ouch. To be slapped by your best friend.
Zi Wen follows the girls back and Xi Yue explains to Ping An why her actions are stupid and unnecessary, "We are still young. We can go look for other jobs. But what about the aunts and uncles? They're old. Have you thought about them? You're bringing harm to them this way!" Ping An mulls over the words for a minute and swears that she'll solve it her way. For the record, begging the Chairlady for forgiveness isn't on her to-do list.
That night, Ping An doesn't return to her living quarters, still breathing fire over the slap. She talks to the Director of the orphanage and finally realizes that Xi Yue slapped her for her own good. Sometimes for the good of a child, reprimanding them in public is necessary.
Next morning, Ping An begins her plan by gathering her good siblings at the orphanage, Xiao San and Xiao Shi. The two hold the banner up high and proud, making sure that the media sees them protesting at the entrance to Qing Cheng Group. It's a 3-person plan but when Ping An sees the aunts and uncles rushing out to help her, she's astonished. Turns out they're willing to risk their income bowl, thanks to Xi Yue who told them about the protest. Ping An softens and looks at Xi Yue. The hot air between the sisters melts and they hold hand, believing in this plan.
Watching the ruckus from the inside is Director Li, who couldn't be more happier. He smiles at the chaos and wonders how his sister-in-law is going to deal with this. Like the usual of course, she confronts the rowdy crowd head-on and promises everyone another year of contract if they all return to work.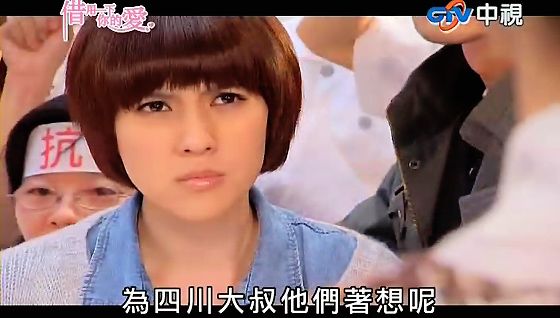 Empowered by their new support system, the workers continues to object while Ping An looks up at the evil witch and seriously ponders about the offer, displaying amazing self-restraint for her temper. She climbs up one step and convinces everyone to go back to work. What about Ping An? She believes she'll be alright.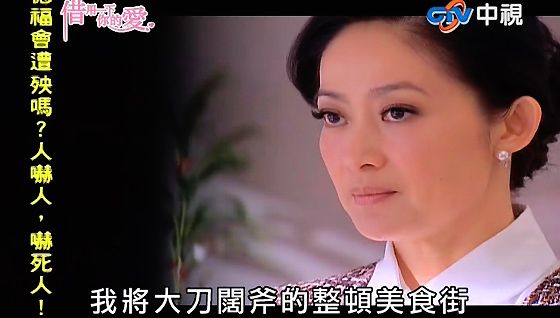 The crowd disperses and Chairlady Bai returns to her office with a new scheme. In the new contract, she has Zi Wen add a microscopic clause, stating that once the new equipments are made, the vendor owners will cooperate with the company's arrangement or the contract is terminated. She figures that without income, they can't blame her when the company follows protocol. What a calculated move, she's betting on their current psychology to have this plan carry out successfully. They are too happy to notice anything amiss.
Ping An hangs her clothes to dry and naturally one of the items is her uniform. She takes a deep breath, remembering her unemployment. She's speaking aloud so Ye Chen, standing on his balcony next door, chides her, "Should've thought of the consequence before." She calls him a busybody and he suggests giving the uniform to him, so he could use it as a floor towel. She glares at him just as Lady Wong, the woman in charge of the employees living quarters, comes charging in.
She has received orders to reclaim the unit where Ping An and Yi Xue are residing. Right this moment, they have to move out. Leaning against the wall, Ye Chen observes the three gangsters hired by the company to take care of troublesome cases. He recognizes them as the same group of hooligans he fought when he was released not too long ago. Ping An puts up a verbal argument but finally has no other choice.
Sitting on her luggage, Ping An is joined by Xi Yue, who suggests they return to the orphanage for the time being. But Ping An doesn't want to worry the Director. She blames herself for bringing the misfortunes home and implicating Xi Yue. Zi Wen arrives, arranging for the ladies to stay at….Ye Chen's place. He happily complies while Ping An's distorted expression says otherwise. ha. Yay! Hijinks as housemates? PLEASEEE!
Next day at work, Director Li jabs at Chairlady Bai a few times regarding the negative media exposure. He gets the last laugh which upsets her so she orders Zi Wen to contact the gangsters. She wants them to teach the girls a lesson. Ah! I didn't think she'd use such underhanded tactics. Fearful for them, Zi Wen warns the girls to stay in the house and calls Ye Chen to their rescue. Good news: Ye Chen has finally put all the clues together and discover that either Ping An or Xi Yue is the CEO's daughter. Unfortunately, the girls are caught by the same 3 gangsters.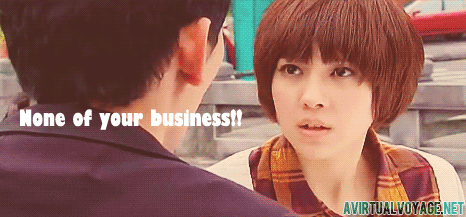 Ping An tries to scare them away but she fails miserably. Ye Chen gets there in time and punches the hooligans. Xi Yue thinks they should call the police but Ping An disagrees, "Big Pervert's fighting skills are quite good. Let him teach them a lesson first."
Resting on the side with a busted lips, the leader spits out, "Who teaches whom a lesson?" He approaches the girls and Ping An, in her pleasure of viewing Ye Chen, punches the leader out of irritation, "Mind your own business!" and continues watching Ye Chen. hahaha!
But then a light bulb goes off in her head. Chairlady Bai also needs to be taught a lesson! She hops on the motorbike and drives off. Again trespassing the office, Ping An threatens to have Chairlady Bai imprisoned for attempted murder. The elder woman levels a gaze at Ping An, "Do you have evidence?" Ping An bites back her tongue, she can't name Zi Wen as her witness, so she resorts to calling her names. Chairlady wonders what Ping An is planning, "Why do you keep on provoking me?" Ping An says in perfect English, "Excuse me." She's going after Chairlady Bai because of the unfair judgement. Bai Ming Li snickers, "In this world, not everyone is entitled to ask for fair treatment." Ruffled, Ping An launches forward and graps the lady's collar, shaking her uncontrollably.
Ye Chen and Xi Yue make it to the office and he peels her away from Chairlady Bai. He tells the two to stop their actions before they regret it, "Xie Ping An, listen to me. It's very possible that Chairwoman Bai is your biological mother." That line stops everyone in the room and Ping An looks down, dumbfounded.
After a momentary silence, Chairlady reveals the story to the girls. She asks that their DNA get tested. Ping An doesn't want to be related to her and refuses but Xi Yue says this is the only way to know for sure. She has always wished for a mother.
The boys meet up to have a drink in a bar. Ye Chen thinks it would be nice if Zi Wen comforts Ping An, the girl has had enough drama for the day. He's surprised that Zi Wen, who rarely cares for anyone (except for his sister), is showering Ping An with immense attention. The latter says there's nothing between him and Ping An.
Kappy: I find myself enjoying the men scenes. They are friends and I don't question their loyalty to each other, maybe slightly on Zi Wen's side, but the air of antagonism and simmering tension is hard to ignore. They haven't talked about the prison and the aftermath yet so I think that's gonna happen sooner or later when one of them bursts. Guilt has a way to stay hidden and comes out full force to destroy you.
You know I have been so sure that Ping An is the daughter (because she's the lead and the theme video), that I never consider Xi Yue as a possible candidate. But the title is worrisome, is it not? Will the DNA results be switched? Xi Yue ends up being the daughter, and in that time, Zi Wen begins pursuing her?
What I like so far is that our four lead characters are genuinely good people. Zi Wen is a tricky case because he's ambitious and is slowly learning the plotting techniques from Bai Ming Li. I can see him going off course for several episodes before catching himself in horror.
Can't wait to see more of Ye Chen and the romance! At the moment, he's amused by Ping An, and I love his grin whenever he has successfully pissed her off. 😀