Braveness of the Ming is the drama adaptation of the novel Silk Night written by Yue Guan. With the time-traveling element removed thanks to you-know-who, the story now follows Xia Xun (Zhang Han), a regular citizen as he transforms from a fish monger to a royal guard and assists Zhu Di in ascending the throne and becoming the third Emperor of the Ming Dynasty.
Stills:
Zhang Han. He looks handsome when all his hair is tied up. The bangs have got to go!
I hope that is not your kiss-me face, Zhang Han. Lol.
I love this armor.
Park Min Young. She has a bickering relationship with our male lead.
Janice Wu (My Sunshine). She looks adorable and is described as the sunshine of the series. *winks*
Shawn Wei (The Duke of Mount Deer). Er….Is the book upside down?
Jeremy Tsui (The Virtuous Queen of Han).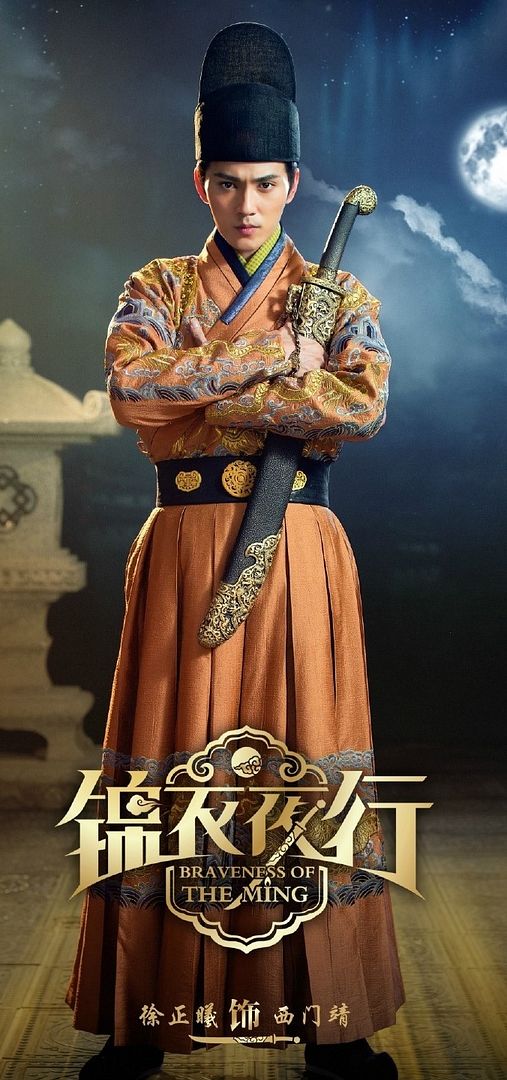 The three-way bromance of our royal guards – Zhang Han, Jeremy, and Shawn.
Shawn is the serious one of the three. This photo is funny: while he's fighting, the other two are conversing in the background! 😛
Guo Zi Qian. She is Jeremy's love interest. Also a guard.
The peace sign while fighting the enemies. hehe.
Cast.
Trailer:
I don't think the trailer did our female lead any good. I like Park Min Young but her expressions comprise of either her crying or looking solemn.
The colors on the costumes are rather a nice blend of vibrancy and hues without being overbearing.
Directed by Chung Shu Kai (Lady and the Liar, I Love Hong Kong, Adventure of The King) and Liang Sheng Quan (God of War Zhao Yun, Legend of the Ancient Sword) and written by Bai Yi Cong (Go! Goal! Fighting!, Feng Yun Legend), Braveness of the Ming has 30 episodes.
Source: 01