I'm in Li Ying heaven right now. So many news of her! Who knew all she needed was a small haircut to look fresh, chic, and adorable! I love the hair split as well, not the usual blunt, boring middle split.
=======> ♦ Official Music Video for Princess Agents Opening Song, "Hope." For the first time ever, I can say that I recognize scenes from the novel. Yes! I went to that length for her. XD I was feeling frustrated with the production because it seems like Shawn's character isn't heavily focused on, whereas both guys are equally very compelling and important. You can distinguish evil Shawn in the mv because he's wearing eyeliner! LOL. And it's so cute to see some fellows from Hua Qian Gu, Sha Jie Jie's second hand man now is Chu Qiao's loyal general. Oh, the irony of life! Li Qin looks lethal walking in the battlefield holding a sword heading to Chu Qiao's body. I'm SO PUMPED!!
=======> ♦ Li Ying was a guest speaker for the show Star Talks on 5/25/17 with the theme My Small Heroic Principles. Subbed video will be posted soon! Quick summary: Li Ying discusses about her 11-year career as an actress, 7 years of just supporting roles. How people told her round faces aren't cut out to be leading material and how she wanted to prove that statement wrong. When she filmed Princess Agents, there were times when she felt hopeless and alone in a sole fight. After she saw the official trailer, she cried and realized one person cannot change everything, the trailer is the work of the whole crew. Of course she is afraid of failures like everybody else, but as a person, one should push themselves out of their bubble of comfort and fight for a breakthrough. Speaking of the unfriendly scandals and media news, her way of relieving pressure is creating and building her characters. The Legend of Lu Zhen (Female Prime Minister) marked her struggling period. As of now, she's presenting herself as Chu Qiao, representing her longing and desires and using her enthusiasm to realize her dreams and bringing forth positive energy.
A+ style for this event. So adorable.
=======> ♦ She attended Beijing College Student Film Festival Award Ceremony. She won Actress Most Favored/Loved by students.
Not fond of the hair, the dress looks boring, so the only plus point is the color. Lol.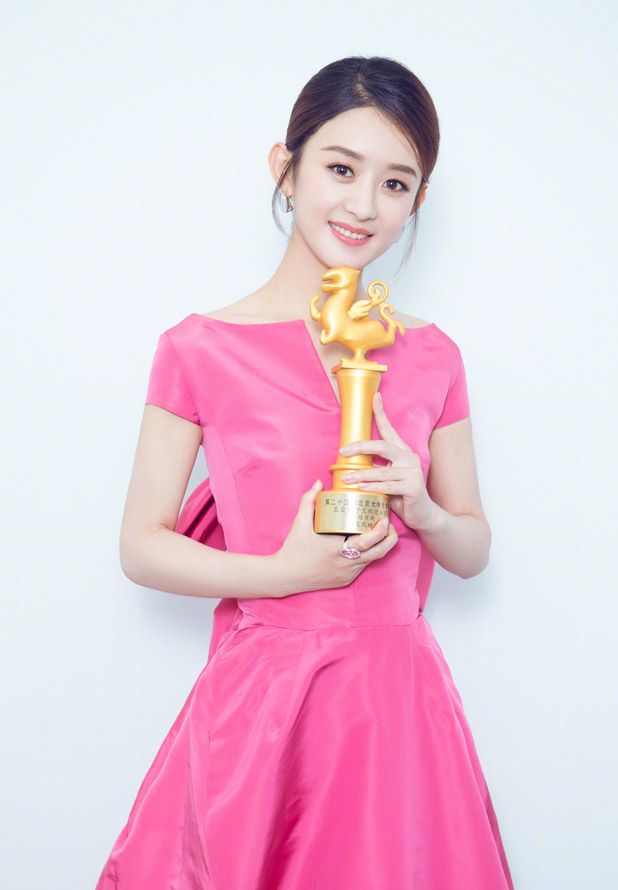 A selfie with Director Feng Xiao Gang.
=======> ♦ Episode 3 of 72 Floors of Mystery has Li Ying (member) and beauty Kathy Chow (guest). Seeing the ex-Tvb actress brings back memory of her classic role as the umbrella ghost. Ah, that themesong just played in my head.
Leo's butt in the air.
Oh So cute.
Watch Episode 3 below: