Reunion! Between the leads, Zhu Yi Long and Viann Zhang, from last year's Border Town Prodigal. The latest costume series began filming on January 2nd with other actors such as Peter Ho, Li Xin Ai, Zhu Zi Xiao, and Yu Xiao Tong. From my drama knowledge, the title Hua Xie Hua Fei Hua Man Tian (花谢花飞花满天) or As Blooms/Flowers Fade and Fly Across the Sky is based on a long poem from the classic novel The Story of the Stone aka Dream of the Red Chamber. It has been remade into a song and you can listen and read the translation at the end. However, there's also a novel with the same name which I'm positive it's adapted from. According to the synopsis, bandit's son (Peter) acquires an injury as a child and loses his memory. He then gets adopted by by another pair of kind parents. Years later, he takes it upon himself to search for their missing daughter (Viann Zhang) who was kidnapped by his very own biological father. After rescuing her, he regains his memory and reunites with his real father. They then work together to clear his father's reputation against a big bad boss.
Wait up, wait up, so Peter is the lead? Oh Yi Long…
Booting Ceremony:
Tall Kid Yu Xiao Tong (The Ten Deadly Sins), Viann Zhang, Zhu Yi Long, Li Xin Ai (Princess Wei Young) and Peter Ho.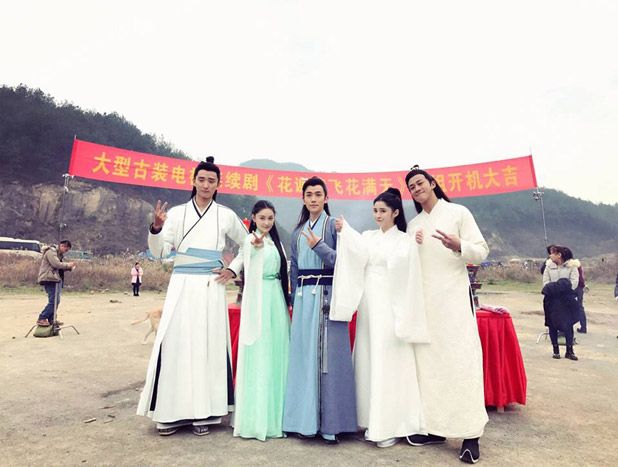 I seriously thought Yi Long was the lead since he's in the center and his clothing stands out… Ah, so confused.
Border Town's Yu Qing Bin and Zhu Zi Xiao.
You guys know what I'm gonna say right? Yi Long finally has GOOD-LOOKING, CLEAN HAIRSTYLE. LOL. =D
Ah, so much better than the thousand-years-old hair from Bordertown.
Burial Flowers Tune Song + English Translation By ShaoyuMr:
As expected, it's a beautiful song. 🙂
As Flowers Fade and Fly Across the Sky is directed by Lai Shui Ching (The Legendary Siblings 2, The Demi-Gods and Semi-Devils 2013).