Included in this batch is Lay's Operation Love, Yan Kuan's Love and Passion, Wang Mei Ren's SCI, Wu Chun's Martial Universe, Ying Er's Legend of the Ancient Sword 2, Raymond Lam's Rule The World, and Jiang Jin Fu's Lightning.
=======> ♦ Zhang Yi Xing aka Lay and Chen Dou Ling in Chinese remake of Japanese drama Operation Love (求婚大作战), which starred Tomohisa Yamashita. Filming began on 11/04/16. Interesting. Recall that the story requires our male lead to travel back in time multiple times to change the outcome of his miserable/regretful future with the woman he loves. There was a Korean remake with Yoo Seung Ho in 2012.
=======> ♦ Qin Lan, Yan Kuan, and Lawrence Wong attended the booting ceremony for Huang Xiao Ming's remake of TVB's Love and Passion (万水千山总是情) on 11/11/16. I wrote a post about this earlier this year [here]. All the teasing of young starlets came out to be a huge fluke. Lol.
=======> ♦ Webdrama SCI Mysterious Cases Journal (SCI谜案集) written by Er Ya began filming on 11/12/16 The description makes this a potentially very funny drama. Fanfiction of the boys from Justice Bao series. BUT Fans are upset when the male lead (Bai Yu Tang) is now played by a female actress, ruining their fantasy. It stars Wang Mei Ren (The Mystic Nine), Kido Gao Han Yu, and Ji Xian Bing.
=======> ♦ And as I already wrote about it: Yang Yang's drama, Martial Universe (武动乾坤), held booting ceremony on November 14th. Some more pics of Wu Chun. When reporters finally interviewed Gina about her weibo post and asked if she regretted posting it, she happily said, no, being able to release made her more comfortable. "Fortunately, I don't feel too sorry [about losing the role], a better chance awaits me in the future."
Gotta give props to the girl for maintaining a sassy attitude all the way till the end. Sometimes, artists would chicken out and apologize but I'm kinda proud of her for holding her stance through it all. While I did hope it was less fiery to avoid unnecessary war between the two actresses. Anyway, that's all.
=======> ♦ On the same day, Legend of the Ancient Sword 2 (古剑奇谭2) also began filming with Ying Er and Fu Xin Bo. Ken Chang is also there but let me just say how smitten Xin Bo looks whenever he's around Ying Er. Lol. Aarif Rahman is also part of the list.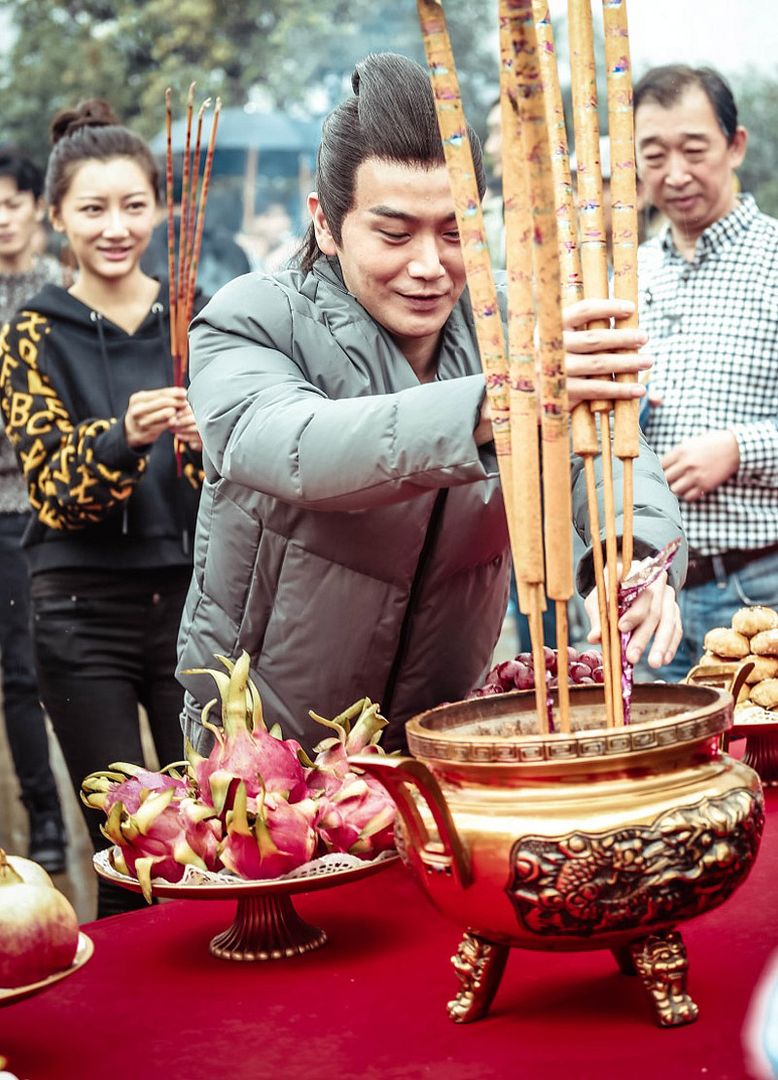 =======> ♦ Raymond Lam as Qing Emperor, Hong Tai Ji, with Tina Tang in Rule The World (独步天下). Filming began on 11/15/16. Other cast members include Zhang Rui and Qu Chu Xiao. More posters are released too!
=======> ♦ After wrapping up Royal Highness, Jiang Jin Fu returns to modern dramaland with Lightning (进击吧闪电), with the premise about fencing. Oh! Interesting! Taiwanese actor George Hu and actress Chen Ya An round out the main love triangle. Filming began on 11/16/16.
Via: 01