A new thriller in the house! Spy drama Decoded (解密), based on the novel of the same name written by Mai Jai, stars Cheney Chen and Ying Er as the main pair in a ever-changing world against numbers and codes. Cheney is mostly known for the Tiny Times franchise and I haven't seen those movies to give a judgement on his acting. Looks like this is his first leading role in a drama so we shall see. Ying Er may not be everyone's favorite but is consistently receiving filming offers.
Synopsis Via Novel: In his gripping debut novel, Mai Jia reveals the mysterious world of Unit 701, a top-secret Chinese intelligence agency whose sole purpose is counterespionage and code breaking.
Rong Jin Zhen (Cheney Chen), an autistic math genius with a past shrouded in myth, is forced to abandon his academic pursuits when he is recruited into Unit 701. As China's greatest cryptographer, Rong discovers that the mastermind behind the maddeningly difficult Purple Code is his former teacher and best friend, who is now working for China's enemy―but this is only the first of many betrayals.
Brilliantly combining the mystery and tension of a spy thriller with the psychological nuance of an intimate character study and the magical qualities of a Chinese fable, Decoded discovers in cryptography the key to the human heart. Both a riveting mystery and a metaphysical examination of the mind of an inspired genius, it is the first novel to be published in English by one of China's greatest and most popular contemporary writers. [Credit]
Stills: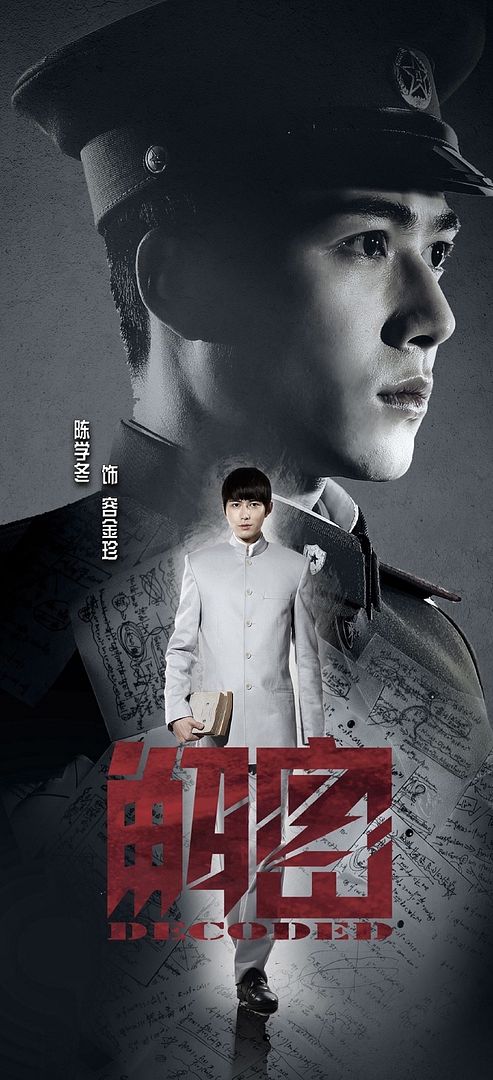 Ying Er.
OTP. Ha. A role reversal! She's the fighter while he's the nerd. heh.
Zhang Zhe Han.
Jing Chao (Chinese Paladin 5). Dude, I have my eyes on you now. 😉
Group pics.
Ady An has a guest appearance. Running around doing cameo guest appearances.
Guo Jing Fei.
Press Conference A Few Months Ago:
Trailer:
Directed by Jian An (Two Families, The River Children) and written by Feng Ji (The Battle of Thunder, Fire Blue Blade), Decoded has 40 episodes and is slotted to air this year.