——> ♦ Love Me if You Dare reveals 15-minute trailer! It's premiering on October 15th ya'll! In four days!
Oh Nick… I'm gonna have second-lead syndrome if you look this cute…
Oh…Krap…you too?!!
——> ♦ Battling for the rating crown a day after (10/16/15) is Hu Ge's modern drama, Good Time, with Wang Xiao Chen, and Elvis Han. Chinese Paladin brothers' return! Another long trailer!
——> ♦ Horror movie, Phantom of the Theatre, starring Ruby Lin, Tony Yang, and Simon Yam, drops two teasers. Release date: 11.27.15. It's not scary for me but those with a faint of heart might want to watch in daylight. 🙂
Really like the poster!
Look at this ageless woman! Glowing skin.
——> ♦ Li Yi Feng and Yang Mi's romantic film, Fall In Love Like A Star, unveils a short teaser. Not impressed. I was expecting more explosive chemistry but Li Yi Feng looks uninterested in it. What happened? Are they tricking us?
——> ♦ Eddie Peng is the luckiest hunk EVER! He gets to work with all the top stars in Hong Kong! Just like part 1, Cold War 2 casts him alongside Tony Leung Ka Fai, Aaron Kwok, Chow Yun Fat, and Kenneth Tsang! In his age range, there is also Taiwanese hunk, Tony Yang. The talents are limitless. I didn't watch part one, did you?
Eddie, love, you can't be running around pointing guns at all the veterans okay? Only a few left!
So cute! >.<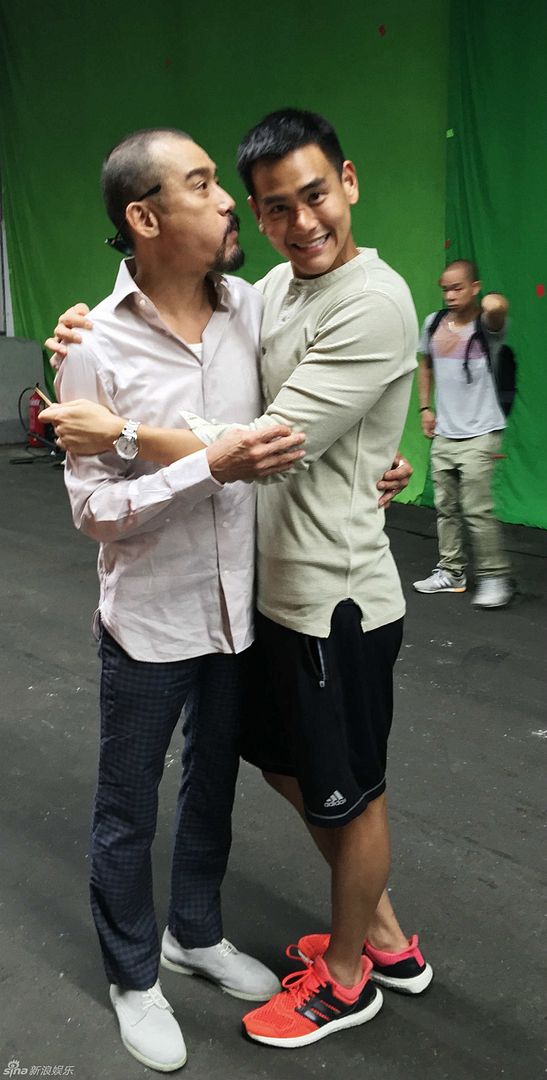 ——> ♦ Produced by Zhou Xun, A Journey Through Time With Anthony, starring Bai Bai He and model Liu Chang reveals a music video! Will hit theaters in five days on October 16th!
——> ♦ Trailers for rom-com, Ex-Files 2, with Ryan Zheng, Amber Kuo, Eric Wang, and EXO's Lay.
——> ♦ More stills of Yang Mi in The Witness. She's very badly beaten up. Could this be her breakthrough performance?
——> ♦ If you need more of Jin Dong in your life, he's in an upcoming modern spy drama, Head Above Water. No release date yet. But it is one of the modern dramas under Shandong TV group with another production team. *coughNirvanaInFire*
Longer trailer.
——> ♦ Run Brother Season 3 is almost here! Premiering on October 23rd! Promo clip below.
——> ♦ Jimmy Lin shares good news on weibo. His wife is pregnant with…twin boys! I think it's time for you to age Jimmy. XD
——> ♦ Sneak peek at Yang Yang and Zheng Shuang's ancient looks for their gaming characters in Just One Smile is Very Alluring. Oooo…Yang Yang does not look good. LOL!
——> ♦ This War of Mine, a war movie casts Liu Ye, Wang Luo Dang, Tong Da Wei, Tony Yang, and Yun Zhou.
——> ♦ Drama adaptation of game Jade Dynasty, known as The Legend of Chusen, with Li Yi Feng, Angelababy, and TFBOYS, have been pushed back to December due to numerous scheduling conflicts.
——> ♦ New movie touted as the Chinese Version of Slumdog Millionaire, The Game of Selection, about the battle of wits among five intellectual males – Aaron Yan, Dylan Kuo, Gordon Lam, Patrick Tse, and Yao Lu. Miss A's Fei also has a role. Filming started 3 weeks ago.
——> ♦ Looks like our new bride, Angelababy, will be right back to work soon. She's listed for a movie with Yang Yang and Huang Bo.
——> ♦ China-Korea collaborated movie with EXO's Lay and F(x)'s Krystal.
——> ♦ Jiang Jin Fu, Chen Xiang, Danson Tang, and Wen Xin to film a modern drama for Hunan. Filming to begin 10.23.15.
——> ♦ Korean actor, Ji Chang Wook, accepted the lead role in an upcoming Chinese drama called My Male God. No finalized name as his romantic interest yet but Wang Xiao Chen (Good Time) and Zhang Dan Feng (The Legend of Flower) names are attached. Please don't let this happen to my poor Dong Fang!
Source: 01