Can't let Mainland celebrities steal all the limelight, so Taiwanese artists also deck out their gowns and jewelries for a dazzling walk down the red carpet for their annual television production award.
Let's start first with my favorite pair of the night – best friends Rainie Yang and Wilber Pan. I need to see them in a drama together. They are so cute together and when the reporter asks Rainie about her boyfriend's confirmation about their love life, she replies that it isn't an appropriate time to ask those types of questions. Sassy.
Them being silly. ;D He's trying to snap a photo of her deep V-line, saying that he has the best angle. LOL.
Raine looks amazing channeling Marilyn Monroe. You know she's a peanut but she looks like a 6-foot model below.
Wilber handed his pants over to a pair of scissors before heading out. Smile mister! He looks great waist up. hehe.
Blue Lan Zheng Long and his wife, Jade Chou. He won Best Actor for the drama Apple in Your Eye.
Leroy Young and Jiang Zu Ping being extra kissy and touchy.
Tian Xin nailing the black version of Rainie's dress. =D Jk!
Ming Dao. You should've invited Chen Qiao En!! XD
Supporting actor and actress for The Way We Were: Tiffany Hsu and Melvin Sia. Tiff won an award for Best Supporting Actress!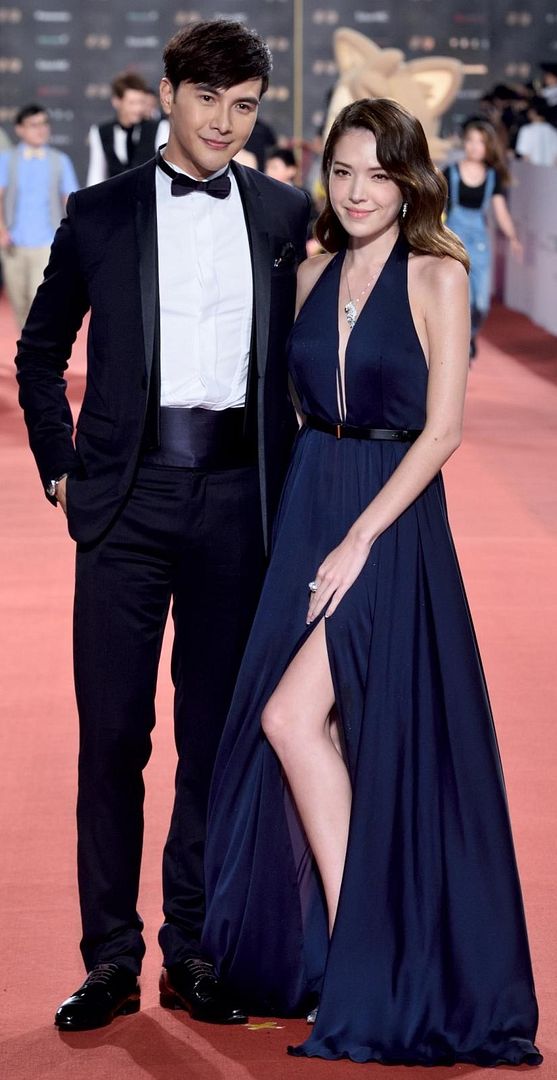 Ruby Lin changed into a bright red dress to celebrate The Way We Were snatching Best TV Series. Love how she did her hair.
Chris Wu walked away with Best Supporting Actor for the mini series, Wake Up. I did not recognize him at all. Lost so much weight?!
The Way We Were cast at the after-party. Every one of the main cast was there.
Ruby kisses Tiff.
Saving the best for last. Ariel Lin and her Go Lala 2 hot co-stars. The more pictures I see, the more convinced I am that she likes Bolin more. Lol.
Love her gown, love her dress! AND HER NECKLACE! Well done, Missy!
Get ready for Vic's signature awk smile. 😛
They present the Best Actor Award to Blue.
Seating arrangement.
Boys and their love for selfies. *cheese* =)
Source: 01