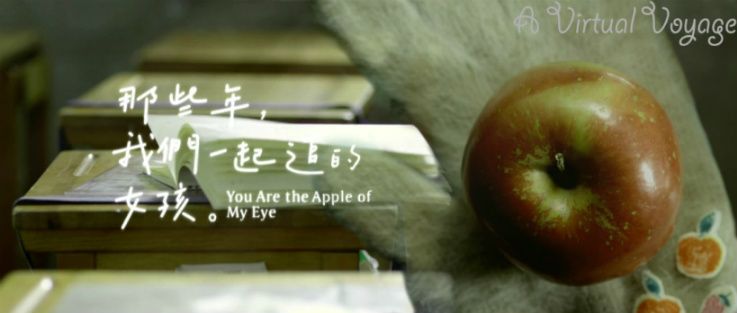 All right, be gentle to me. My first crack at impressing y'all. I'm gonna do a lot of teasing, here, because I want you to watch this coming-of-age film done very well in its genre. Taiwan has good grades producing first love or puppy love stories. Everyone experiences that in their lifetime right? You can't crush on someone forever, can you? It's an engraved milestone once you hurdle pass enough courage to profess love, for the first time, and although some wish they had a goldfish's brain to get rid of it others are like Apple's pen named writer Giddens, well known as "Jiubadao" (九把刀), wish for another trip down candy apple lane. He brings on the sweet and tarty life flavors of every hormone inbalanced teenager's ideals.
"Adolescence is like a heavy rain. Even though you catch a cold from it, you still look forward to experiencing it once again."

"青春是一場大雨。即使感冒了,還盼望回頭再淋它一次。" -九把刀
You think this is a chick flick? Not the least, I have a younger brother and this movie is the type which brings his whole basketball team over for a movie night, PS3, and loads of pizza. (Awkward, and I'll tell you why!) You have the protagonist, Ke Jing-teng (Giddens' real name, played by Kai Ko), along with his posse: Boner, Cock, Groin and A-Ho are the bad boys of Ching-Cheng High, the actual high school filmed where the real Ke-teng attended in the 90's, central-west of Taiwan. Giddens' novel The Girl We Chased Together in Those Years (那些年,我們一起追的女孩) evolved on the silver screen in 2011 epicenters a valedictorian cutie Chen Jia-yi (played by Michelle Chen) who many boys are like bees to honey. Some boys will do anything to get close to Jia-yi, even using her BFF, Hu Jia-wei, as the third wheel on dates.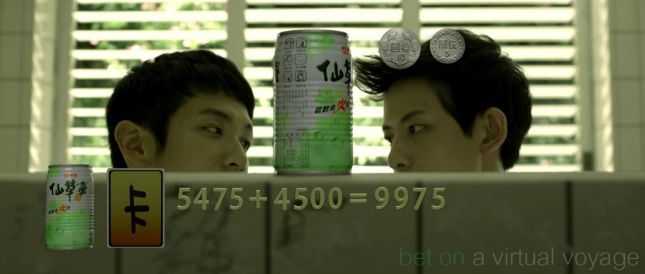 The story angle is about boyhood self-mockery. Life in high school for them was about girls, masturbation, identity, and bribing friends. (You can imagine my awkwardness as a B-ball team darts their eyes back-and-forth wondering if I'll judge them during movie time.) You won't see God of Study alumnus here with nose bleeds digging in textbooks. What you do see are a bunch of bored mischievous lads trying too hard impressing girls they like 'cause their nether region dictates their actions. Is there a pun in "comic relief?" Eventually, some good comes from such erectile burst of commotions like the idiosyncrasy act in love seeded by nature, a boy enters his manhood, and preserves his adolescent romance even 7 years after the young couple's bitter break-up. How far will you go to protect the one you love?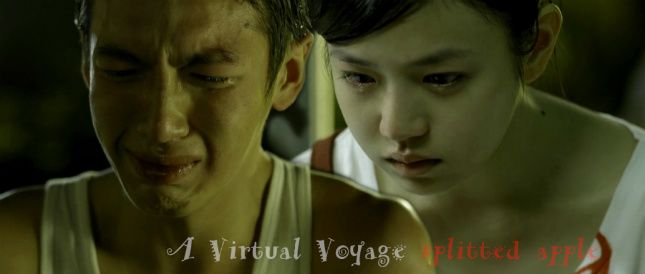 What I like about the movie?
The Beach Scene:
A typical summer day in the glistening waters. Carefree, young, and no sunscreen? >__< The group takes a break playing at a beach wondering what's after graduation? Who do I want to become? One of those serious moments in everyone's youthhood is to make plans for one's future. The above captions says it all coming from Ke-teng. It's a universal message many of us wish we're more brave to have claimed. Honest and bold.
The Leading Couple: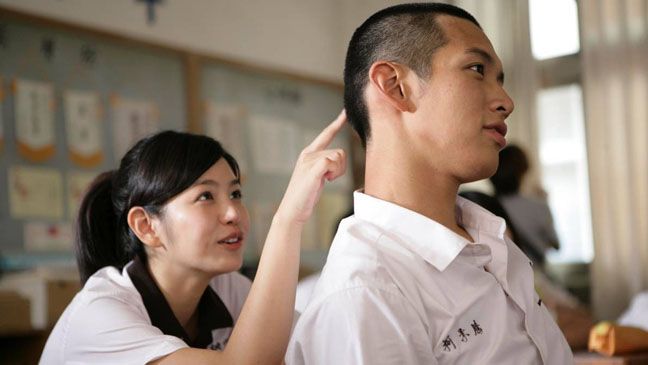 One of the greatest on screen pair EVER in young actors category. Their chemistry flow is as grand and classic as the dancing water fountain at Bellagio in Las Vegas, N.A. This is Kai's debut as an actor, and if you watch carefully then you'll catch his real biological father playing the role of Ke-teng's dad. His co-star, Michelle is not an amateur in acting, this USC alumni may be legally eight birthday candles apart from her younger co-star but you can hardly notice this from cinema magic and best make-up trends. Yeah, what BB cream is she using, right? To get the 2011 Golden Horse New Actor winner, Kai Ko, to split his one million TWD bonus check (promised by one of his Apple bosses) with his beautiful Apple leading lady? It must be her cute dimples. ❀◕ ‿ ◕❀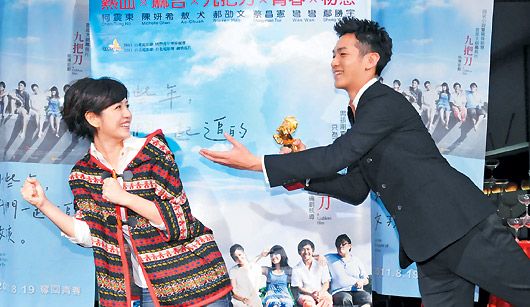 The Wedding: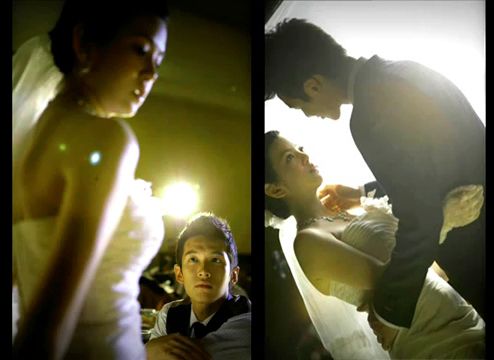 Simply why, 'cause it's a beautiful scene. Everyone knows, weddings become grand reunions among family and closest friends. So weddings are like class reunions, brings back all the jitters and reason why you like going to school or not in the first place. In this story, the Rotten Apples posse congregate and reminisce in debauchery why each guy desired after Jia-yi, even Jia-wei the best achiever in the group, now successful blogger queen and popular manhua artist, got her punches in how the guys all must regret hadn't chased after her instead. Is it true guys belittle at weddings when they are not the groom? Ke-teng says, "You won't understand. If you really like a girl, it is impossible to see her marry another guy and bless them happiness." Or does he have a change of preference? Is he gay or something? He kissed the groom! Oh.Em.Gee~ I'd be like the bride and cover my mouth with a hand in utter shock too.
What I dislike about the movie?
That this film was not directed by Giddens, himself, more over by the executive co-directors candy coating it to raise the bar on this film's dramatics, so that way it sells better in the box office. DUH! So the company gave Giddens a pseudo title as director? This is why the film is a semi-autobiography not absolute raw like the autobiographical novel itself. I should be immune to this kind of disappointment by now when novels are more thought provoking than its film adaptation, but hey, someone's cup of shit can be someone else's cup of coffee.
Just in case anyone care to wonder who the real life leading couple once were…
… and to see the true Rotten Apples Posse then click link.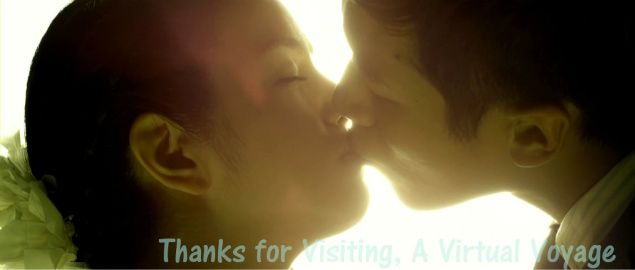 Check out Apple's OST here.
Keane: Phew! I suck at Ps-ing; my first try. It took way too long for me to come up with these visuals than setting up a written scenario for readers. =p Did I do a good job? I announce, I refuse to lose any hair over this! I may default in this battle of the baldness.
Anyhow, I suppose I'm at the point where I'm sick of chick flicks per say, so this male view point brings a refreshment to my dramaholic movie experience. It's nice to see the guy weep more than the girl for once in a heartbreak. Oh, it doesn't hurt that a little part of me wishes every guy in the world man up at a certain age, say like around his college years which most girls already develop maturity, but that didn't happen. Something so obvious but still I keep hoping. And finally, yes, girls like me love wedding themes; Michelle's white dress is amazing, everything on her was perfect that evening and her groom wasn't bad looking just a bit old somehow, but of course, Kai looked dashing in his wannabe groom suit. I was fooled, I thought it was his wedding too. Or was I in denial for the sake of romance? I won't answer that! In truth, Giddens didn't look dashing at all for the real Jia-yi's wedding, and this movie reveals maybe he regretted that, so he wanted his movie character to fill his void.
Source: apple daily, baidu, udn, wiki