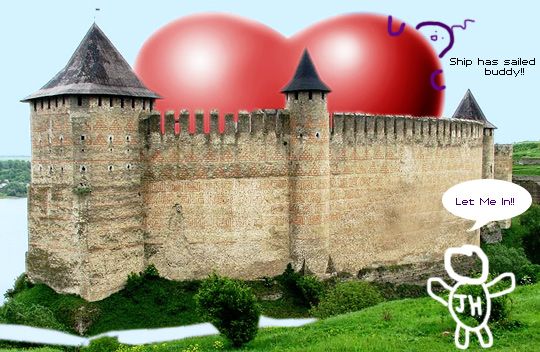 You all think I'm be heading into this train wreck without any form of protection? Insurance? Think again. I'm going to die like a boss, complete with my castle and Cupid Baek. Take that, writers! For those on the same ship as me (or different, whatever makes you happy), I'll generously lend you this life jacket, unless your spirit disintegrates within my hardcore castle – that I can't save.
Anyway, our emotionally-stunted boy confesses in this episode gals and it's not him if the scene plays out smoothly. It's interesting how he reveals his feeling exactly at the half-way mark of this drama. Is this a hint that it's your game in the latter half? It better be. Better.
You know the frustrating thing about rooting for Do Yoon? We as viewers see everything that he does for Joon Young but she doesn't. Do Yoon is always rubbing her the wrong way in order to accomplish the little things he wanted to do for her. She only sees a rude, lonely guy. We see a husband material.
— Episode 16 —
Fake Father VS Real One
With a face full of hope, Young Bum asks, "Have you seen this child? Are you the same man who called me 10 years ago from Udo Island?"
Fake dad is silent as a mouse, his eyes roam around the table, and finally blurts out, "No, it was not me." That breaks Young Bum's line of hope and he apologizes for jumping into conclusion. Hello? You're a doctor Young Bum, would you believe a liar or SCIENCE? Get the girl's hair!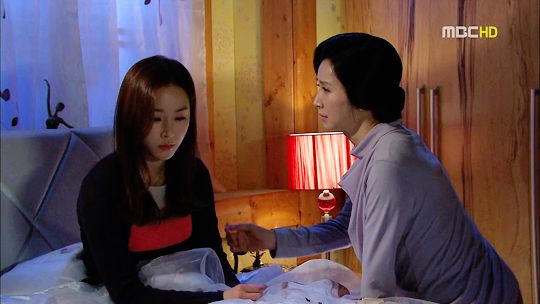 Bothered by Doo Hee's extreme display of affection for Joon Young, In Joo can't sleep that night, which is when Doo Hee enters the room and goes into a half-mode lecture. All her life, Doo Hee has given top priority to Arirang and she'll continue to do so but she doesn't want In Joo to bear the life-long responsibility as well. In Joo interprets it differently, "Are you telling me to quit? After all that I have done, you're saying it's all in vain?" No, she can't give up and hopes that Doo Hee have confidence in her ability, "If you don't believe me, I'll fail eventually." Hurt, In Joo recoils from Doo Hee's touch.
Meanwhile, Do Yoon is still waiting outside of Arirang to take Joon Young home. She refuses and he grabs her saucy sauce into the car, leaving her with no choice. heh. He parks outside of Sanarae and Joon Young mentally prepares herself to make certain things clear to him.
Joon Young: "Listen carefully to what I have to say. Don't joke and look down on me."
Do Yoon: "Okay."
Joon Young: "Stop being around me. I have someone I like and I don't see anyone else now. Therefore, don't like me."
Aha! The wheel of sense has finally started to work in her brain. She feels something from him. But it's odd that she's the one to say 'keep the distance' since she was also the person who hung around Jae Ha when he was still dating! What goes around, comes around.
Do Yoon smiles: "Don't you feel awkward?"
Joon Young: "No. There is no reason to feel awkward!"
Are you sure? What's with the mumbling and no eye-contact? huh? HUH?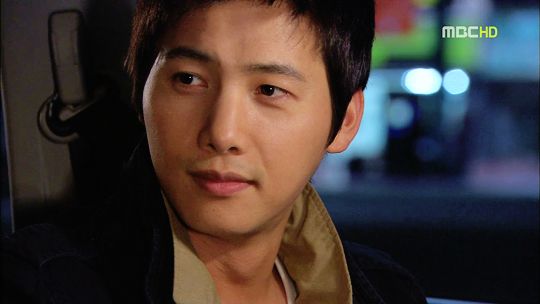 Joon Young: "I already know that you like me.
Do Yoon: "That's right, I like you."
AHHHHHHHHHHHHH He did it guys!! The bumbling fool finally confesses! Joon Young is startled.
Do Yoon: "Go Joon Young, I like you, sincerely." *melts*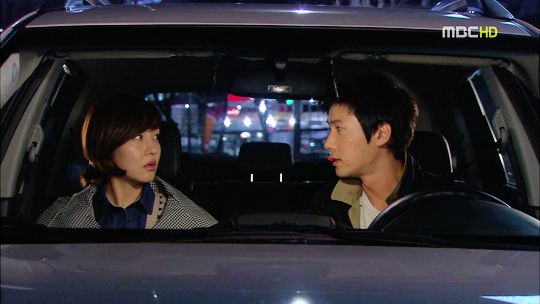 For a good minute, they stare at each other IN THE EYES, ready to launch for a kiss. I kid. Joon Young finally breathes but Do Yoon cuts her off, "It's just that there's someone who's interested in me."
Me?
I mean US? How did you figure dude? Does anyone else understand what he meant with that line? I think we all agree that Do Yoon doesn't really know how to express how he cares, so when the air is thick with awkwardness, he immediately retreats by distracting her with a statement. Equally confused, Joon Young guesses that he's trying to make someone else jealous by treating her nice? Who? In Joo? *facepalm*
Unfortunately, this scene is interrupted by someone Do Yoon calls "nosy". It's Jae Ha, walking out of Sanarae with a bag of late-night snacks. He sees Do Yoon and immediately heads over to the driver's side and knocks on the window. Like his usual response, Do Yoon drives off coolly. heee!
Jae Ha can't believe there's such a mannerless person in this world! Joon Young senses jealousy from Jae Ha and assures him that no one would like this strong woman! Um, You're not strong, just resilient. He unhooks her arms, still brewing in a jealous fit, and she solves everything with a peck on his cheek. He's sent to the ninth floor of heaven.
On his drive back, Do Yoon is on the phone with Jane, who complains that he promised to come within a month, with Joon Young no less! He breaks the news about going there alone and Jane is disappointed that he got dumped. I love Jane, even her voice is cute!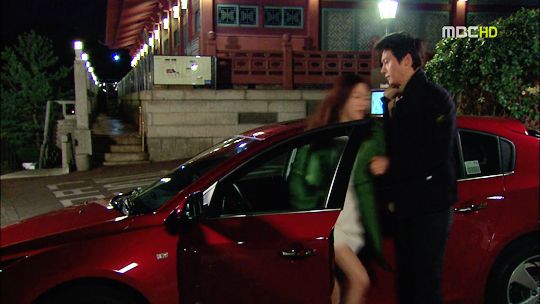 Back at Arirang, Do Yoon notices In Joo rushing somewhere, but her mind is shut off because she can't properly open the door or operate the car, he drags her outside the car. He leans in to smell, no alcohol so why is she acting this way? In Joo tells him to mind his own business.
When he does move on, she asks for a favor, "I need to go somewhere but I can't drive. I beg you."
Young Bum finally stumbles home in his listless state and apologizes to a confused Doo Hee that he has let her down. She thinks he's upset because of a dying patient and tells him to rest.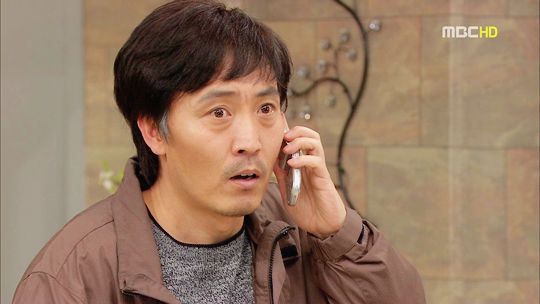 In Jae Ha's apartment, Fake father chides himself for denying the truth, "Why? Why? WHY?" so when Joon Young calls him, he's extra gentle and nice, which raises her suspicion, "Did you do something wrong? Your voice is strange!" Of course not, he wonders whether she was upset while waiting for her real father ten years ago? She wasn't, she was occupied with angry thoughts about HIM abandoning her. Fake dad feels better, hangs up, and says he's sorry for doing it, "I just don't want to be alone anymore." Selfish.
Do Yoon drops In Joo off at a nighclub, and she tells him to wait. She goes inside and looks up on stage, remembering the spot where her mother used to sing and dance with men. I don't do well with Little Yeon Woo, why are you guys keep doing this to my tear duct?! Mother was busy making money so she had someone else take her daughter away.
The music fades in In Joo's head and she speaks to herself, tears streaming down, "If you come back alive and come to me, I will ignore you. I hated the pitiful you."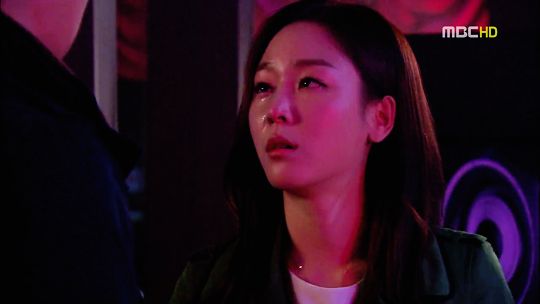 She continues to stand in the middle of the dance floor until the people there begin to dance wildly and push her to the side in her heels. Do Yoon comes to her side and stables her. She is suffocated of all these memories, torturing her identity and self-esteem, and tilts to his side. Oh man. I think I know why she goes to night club every once in a while – it is to keep memories of mom alive and beating. Although, it looks like she's about to erase her to fully embrace something she's not. Tis sad.
The ride home, In Joo reveals to Do Yoon her weakness – she's still afraid of holding a knife. When it's alive, she's afraid to cut it. She's half-mocking herself and he's answering passively to every question. Despite her fear, In Joo laughs that she's still going to be the next Master Chef. Guys, I think she's officially a doo doo head now. Hear the laugh?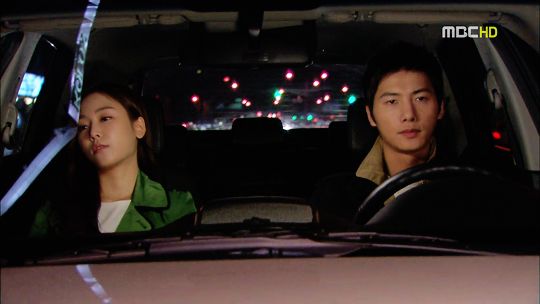 Within seconds, she becomes herself again, and turns to Do Yoon, "Why are you listening to me so well? Is it because you're afraid I'll expose your identity?" Do Yoon: "No, it's because I pity you." Aw. These two and their troubled mothers. In Joo doesn't look offended, more like she has come to the same conclusion about herself, "Forget what I told you the first time we met. Song Yeon Woo. She's dead."
Next morning, Baek Sul enters her studio kitchen to find Joon Young sleeping on the couch like an angel, and she smiles at the sight. I think it's the first time, she genuinely smiles without an evil thought. It's a kind smile. Joon Young jerks awake and apologizes to the "President" for snoring in her place. Baek Sul dismisses the title but Joon Young doesn't know what else to call her. Baek Sul makes it half-word, "Call me Teach—-" and stops herself, thinking they better take it slow. Aw! She wants a disciple, how cute!
Joon Young has finished making a similar sauce to Hae Song Jang. Baek Suk tries it out and mutters to herself, "So this is it…"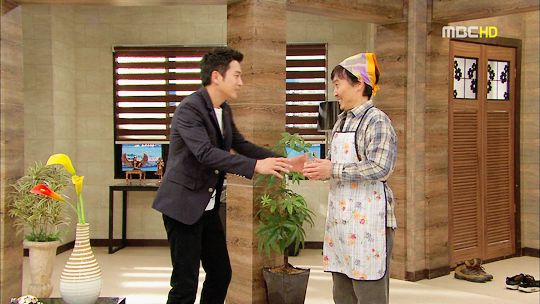 Jae Ha is heading out to work, and Fake father, dressed up like a mother hen, approaches him with a fresh glass of tomato juice for breakfast. Gah. So basically, fake dad is going to be a male maid at Jae Ha's house to pay back Joon Young. Whuu? Shouldn't you be cleaning her place?
The phone rings and fake dad picks it up – Grandma. She wants Jae Ha on the phone and wonders why a stranger is lodging in his house. Fake Dad clarifies, "My son-in-law, Choi, tells me to stay here…" Grandma is taken aback, "Son-in-law? Who are you??!!" Joon Young's father of course. Grandma hangs up when he keeps blabbering about respect.
Grandma's growl is quickly replaced with a smile once In Joo enters her room, reminding her to call "Grandma" when they're alone. She hands In Joo a box – it's a gift from her mother-in-law and now she wants to pass it down to her grand-daughter-in-law. Unsettled, In Joo ponders, "Haven't you heard?" She did but concludes that Jae Ha is "lost", so the decision is in In Joo's hands. "If you accept, I will do everything to help you." In Joo puts on the ring.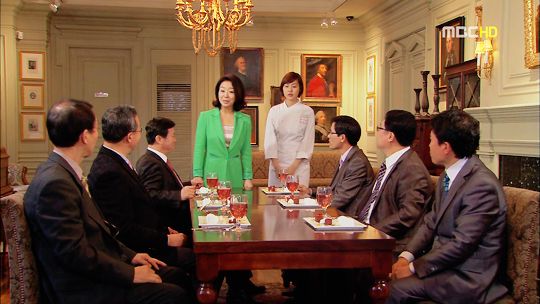 Elsewhere, Baek Sul introduces Joon Young to the judges of the competition, and one of them recognizes her as the girl who cooked bibimbap with Haemil. Uncomfortable with the special attention, she asks to leave because she wants to win this round fair and square, like her promise to her teacher, Sung Doo Hee. Er, I admire your honesty, but the last bit can be cut off. Why is everyone obsessed with Doo Hee? It's confounding.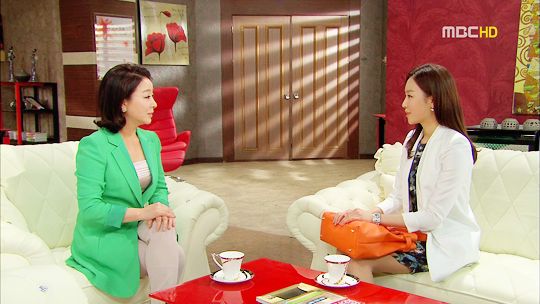 Baek Sul returns to her office, fuming like a volcano, "Sung Doo Hee! Sung Doo Hee! Sung Doo Hee!!" She orders Assistant to move Joon Young's dad to another place and he thinks otherwise because he's not her real father, "I will look into the matter further." Okay. Just then In Joo bursts open the door and enters like a runway model. No! No! NOT the same plot AGAIN?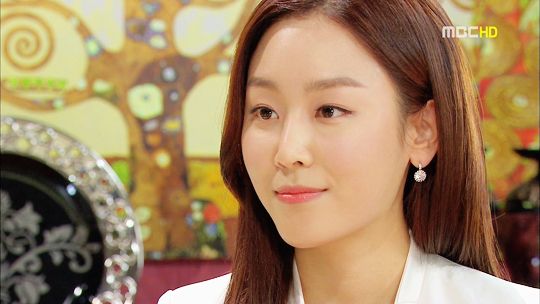 In Joo mocks Baek Sul for wanting the same disciple as her mother and the latter takes offense in her word choice. Stop beating the bushes will you? In Joo's motive is clear: There are people who are born to a good family, has an exceptional background but still can't beat that one person with Lady Luck on her side. In Joo thinks fair is all but a lie. Baek Sul perks up, "Alright, tell me, what do you need?" In Joo throws back the same question, "What do you want from my mom?" Baek Sul thinks it's something unrelated to the matter but In Joo guesses that much, having shared the same feeling towards Joon Young, and spits out, "You want her to kneel in front of you. You want her to get out of your life forever. I can help you fulfill your dreams if you listen to me." Do you all see horns on In Joo's head? She's going to trample over Doo Hee now. *gulps*
Baek Sul calls out In Joo's bluff, "You barged in like this and expect me to believe you? Fine. But Joon Young is one of my people, so don't touch her." In Joo snickers, "Do you think Joon Young thinks the same?" which rattles Baek Sul completely. Her last words, "Even if you don't want to cooperate, you will eventually work with me."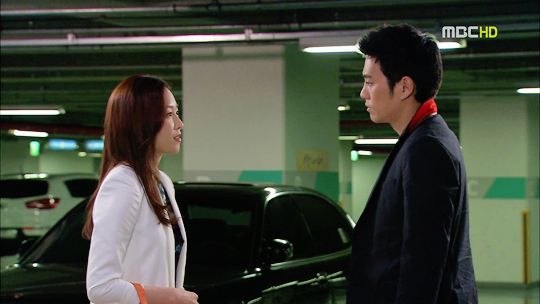 On his way to meet Sanarae's marketing team, Jae Ha bumps into In Joo, and they exchange friendly exchange in which she reveals that she still wakes up every morning at 6AM to call him and always stops herself mid-way. All the corners and districts they have crossed still pry an emotion out of her. Jae Ha reacts indifferently, laughing, "I'm sorry. Sorry for not having anything to say." She advises him not to feel sorry from now on.
Joon Young drops by her friend's workplace, casually checks her email, and screams when she sees Haemil's email to HER. In the email, he asks about her health, and wonders whether his Korean is good? Jane taught him. Jae Ha calls and Joon Young replies with her utmost excited tone and he's curious, "Why is she so happy?"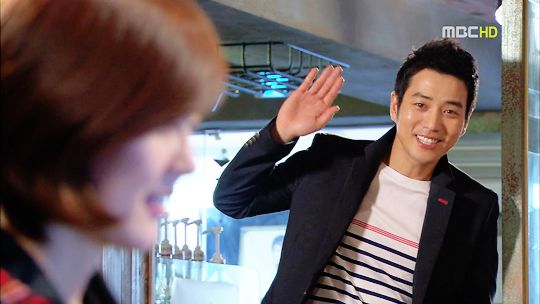 He comes to the Internet cafe where she's busy typing a reply to Haemil and totally doesn't see or hear him when he greets her. OMGOSH! So it's Haemil who is the real CONTENDER for these guys? hehe.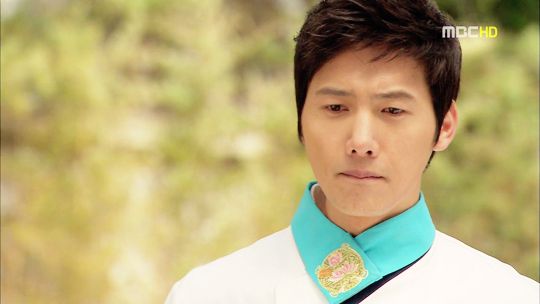 Jane calls Do Yoon and reminds him that the flight to London is scheduled for this Saturday, "Are you really coming alone?" Do Yoon mumbles the saddest and longest "yesss" in history. His lower lips basically disappears. Aiyahh….My heart! His phone rings a sound, alerting him of an email, it's from Joon Young. He lights up partially.
In Joo goes to the herbal store to buy more herbs. She sees an interesting herb that needs to be detoxified before it can be used as medicine and comments on the meaning in her life, "Born out of poison, but eventually use as herb. Interesting."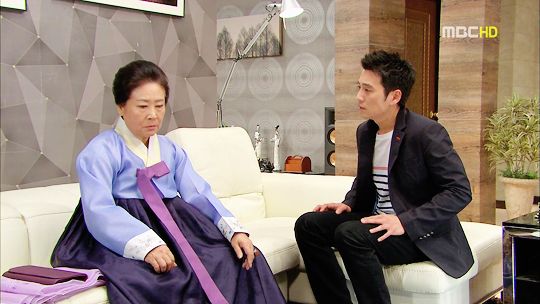 Fake Dad is in trouble because Grandma visits Jae Ha's apartment and tells him to get out, Jae Ha's going to marry someone else. Jae Ha tries to explain but dad is too angry to listen and immediately phones Joon Young after he storms out.
Jae Ha begs Grandma to stop interfering and listen to him but Grandma threatens, "If you continue to hurt Joon Young, I won't ever see your face again!"
So that night, all three people brood. Jae Ha doesn't want to pick between his beloved Grandma and Joon Young. While she doesn't want to ruin the relationship between Grandma and Jae Ha. And Do Yoon holds the H bracelet in his hand, thinking, "Saturday is the day…"
He gets out of bed and drives to Sanarae just in time to see Joon Young heads out in the rain with an umbrella. Aw. I love how this scene plays back to Do Yoon's analogy in episode 14 about being the one to give her an umbrella. He notices that she's down so he asks Jane for a favor.
He continues to follow her in his car. Jane calls and babbles on about stories of her and Haemil's adventure which cracks a smile from Joon Young. He watches her with a small smile too. This fool.
Fake dad stumbles back to the apartment, drunk, and laments about his poor background, and hence Grandma dislikes their family. Jae Ha's assurance is ineffectual at this point.
Doo Hee comes to In Joo's kitchen and overhears her planning with Baek Sul. Looks like Baek Sul wants her to lose on purpose but the latter screams objection.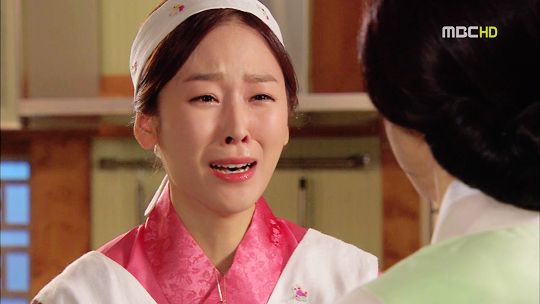 In Joo turns around and sees Doo Hee, who is probably losing all of her remaining black hair. In Joo explains herself, and we see a difference, she finally lies and puts the blame on Baek Sul, "She says I have to lose or else she will expose what I did last time! I can't give up mother. Losing to Joon Young is the worse!"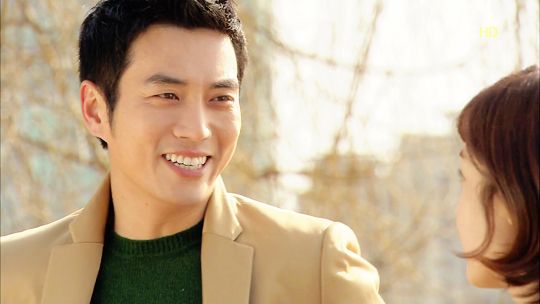 Next day, Baek Sul is chatting with Joon Young before Jae Ha enters, bows, and drags Joon Young out to go on their "date". They play a mutual game and Jae Ha fails to guess Joon Young's favorite color, animal, and stew.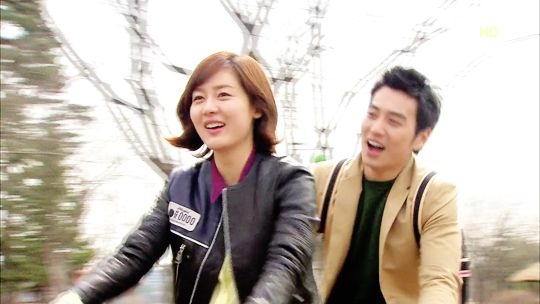 Their next plan is to ride the bicycle. And here my jaw drops. She says she might NOT remember how to ride a bike? Seriously girl? You rode it like a boss on the island! Anyway, it turns out that Jae Ha doesn't know how to ride and he reasons, "It's because I didn't want to get hurt." So they use a tandem bike instead.
Then they join a group of kids to have a round of basketball.
Baek Sul receives a call from the Ministry of Food executives, they want to meet at Arirang to discuss some important matters.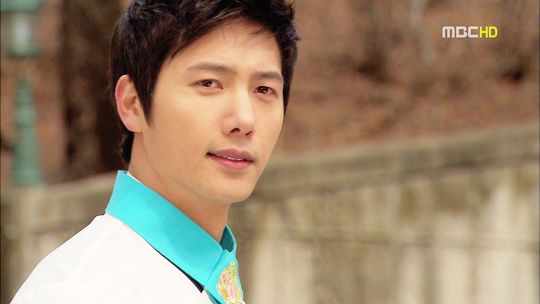 On her way in, Baek Sul sees Do Yoon with yet another trash bag in hand. She wonders if he's waiting for her? Not impossible. Do Yoon: You sound ill, are you going to die soon? But then again, you're taking medicines so I guess you're going to live a long life." She gripes at him, "Even if I die, there won't be any money for you!" She turns around and Do Yoon looks at her back, smiling. Aw. He's slowly letting go of his hatred for her. It feels like he's saying goodbye with his eyes.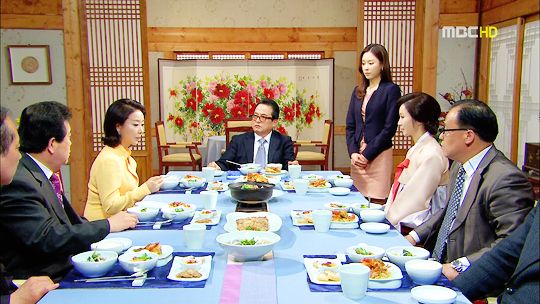 The important people gather around a table to have dinner. Baek Sul tastes the soup and claims it's not the golden sauce. The lead guy agrees with her assessment and Doo Hee says, "You're right. It's not the sauce because I use a bought version of it." Bought version? OO Doo Hee is launching her attack. The bought version is the sauce that Baek Sul made based on the fake Heavenly Book. The fake sauce was thought to be removed, but Doo Hee is able to buy it at the markets.
Baek Sul tries to clarify but Doo Hee has the evidence where the fake sauce was made and stored.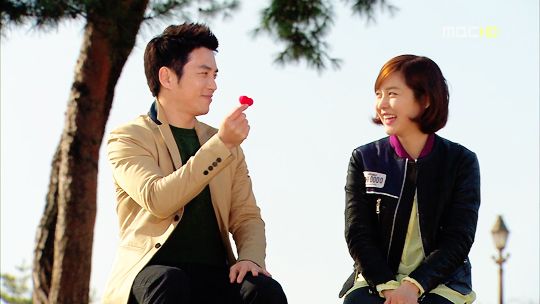 Jae Ha cheers Joon Young up with some magic tricks. Placing one heart in the palm of her hand, he rubs one heart into two hearts. When she wants more hearts, he playfully touches her nose, then her hand. She opens her hand and there are 3 hearts. More! More! He finally makes a bigger stuff heart and tells Joon Young to lift it. She does and sees a ring in the center of her palm.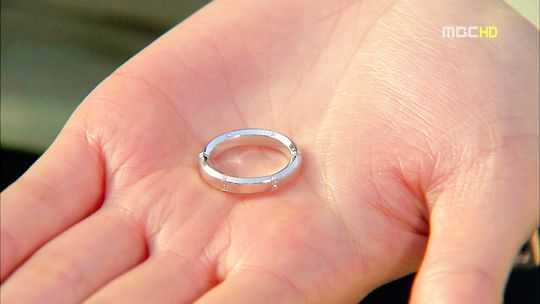 He slides it into her fourth finger and promises not to let go of her hand, so she should take responsibility, protect and love him.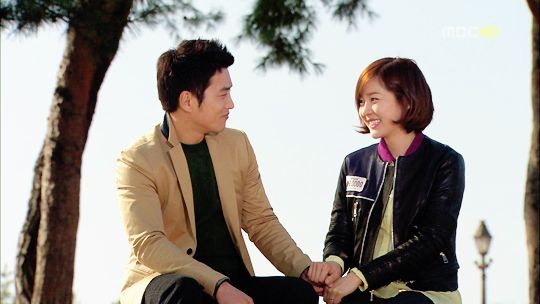 She holds his hand, "We finally found something in common. Our persistence."
Alice: T_______________________T Sad? Who? Me? Nah….
It's interesting to note that both In Joo and Joon Young received a ring in this episode, but each one carries a starkly different meaning. In Joo's ring is her way to gain that coveted position of Master Chef while not knowing the full intention of Grandma's plan. That ring is her ticket out of the competition. I can't imagine In Joo's face once she finds out the truth. All hell breaks loose, Grandma.
And Jae Ha. Oh, Jae Ha. Always three steps ahead to claim stuff. He's vastly different from Do Yoon, the slowpoke.
Do Yoon's love is never about himself, it's selfless and beautiful. He doesn't need to be the person standing next to Joon Young. He's satisfied as long as she can smile. He only cares about her happiness, even when she's with another man. His love has no ownership or self-professed credits while Jae Ha's nose flares as soon as someone else approaches her, even before they were dating.
It's exactly like his umbrella's analogy: He will give her an umbrella but she might share it with someone else in the rain. This is sooo frustrating!
So tell me writer, you're considering the possibility of breaking his heart? You're cruel.